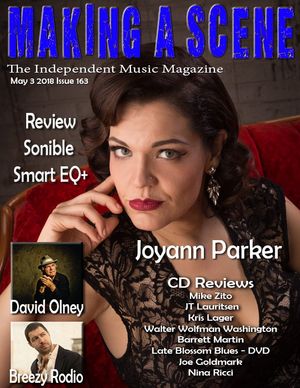 https://www.makingascene.org/joyann-parker-hard-to-love/
Joyann Parker 
Hard To Love 
Hopeless Romantics Records 
The classically trained pianist Joyann Parker has a degree in music from the University of Wisconsin-La Crosse. Parker had previously sang in church and with a wedding band but only discovered the blues four years ago. After singing Aretha Franklin's soul classic "Chain of Fools" Parker received an invitation to join a Minneapolis based blues band. In 2015 Joyann Parker and Sweet Tea released their debut recording "On the Rocks". As a result the band was a quarter-finalist in the International Blues Challenge and their album became The Minnesota Blues Societies choice as "Best Self-Produced CD". Parker also headlines a show called "The Music of Patsy Cline" and states "old school country and blues are very close…when I listen to Patsy Cline I hear a blues singer…singing from her soul". Parker has already been compared to both Etta James and Shemekia Copeland. 
The band on "Hard To Love" includes Parker, vocals, guitar, piano and trumpet; Mark Lamoine, guitar and background vocals; Tim Wick, piano and organ; Michael Carvale, bass; and Alec Tackmann, drums and percussion. The album is produced by Parker with co-producers Lamoine and Carvale. 
All of the songs are co-written by Parker and Lamoine. Parker states "I believe part of being a songwriter is taking your story and weaving it with other people's stories…I write songs that somebody, somewhere may hear and then say, "how does she know me?" 
Parker evokes Memphis on the opening track with the lyric "by the time I get to Memphis I won't need you anymore".  "Envy" is a soulful Memphis groove with some great organ from Wick and a fabulous vocal from Parker. Wick plays both organ and piano on "Home" featuring a tasty guitar solo from Lamoine. On "Dizzy" Parker's voice is mesmerizing. 
The funky "Who What When Where Why" features an infectious bass line from Carvale and Parker on trumpet with additional horns from Gunhild Carling. Parker plays piano on "Bluer Than You". On the New Orleans styled "Ray" it's Wick on piano again with another great guitar solo from Lamoine. 
"Jigsaw Heart"; "What Happened To Me" and "Evil Hearted" are new versions of songs reprised from Parker's debut album. On the latter Parker is playing lead guitar. 
"Take My Heart and Run" features Lamoine on a resonator guitar; Parker's vocal is just fabulous. "Your Mama" is a great piece of songwriting with Wick once again tinkling the ivories as Parker sings "tell your mama she's got to go". Parker's vocal is sublime on the title track "Hard to Love" as she transcends genres. 
Parker is a great songwriter and vocalist with a crackerjack band. This album is one of the year's best. 
Richard Ludmerer